About Andrew Loader
Sydney Interior Designer
When Andrew first presented the concept boards to me I was astonished at how skilfully he was able to translate ideas into reality. For anybody considering a designer you must first speak with Andrew Loader, there will be no need to speak to anyone else.
– David Akins, Potts Point Sydney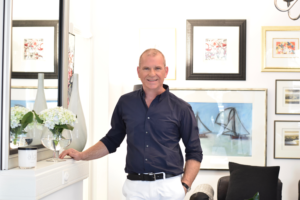 Sydney eastern suburbs based interior designer Andrew Loader has always had a natural talent for and love of design. His passion for creating striking, sophisticated and contemporary interior designs is evident in every project . His designs are known for being highly customised and polished making him one of Sydney's highly sought after interior designers .
With over 20 years in the world of creative design, Andrew knows the enormous importance of creating spaces that make people feel comfortable and at home whilst also being inspired and uplifted. This approach extends harmoniously into Andrew's commercial interior design philosophy.
After excelling at the Australian Interior Design Institute, Andrew opened his interior design studio in Sydney's eastern suburbs. After two years he expanded into a larger creative space in Potts Point where he operates today .
Andrew's appreciation for the powerful beauty of simplicity in design is reflected in the style, refinement and above all practicality and comfort that are evident throughout his portfolio.
Andrew's signature style is one that supersedes interior trends. Timeless but contemporary , his style has been greatly influenced by his years of living, working and travelling the world. His designs have been featured on television, in several coffee table books and in numerous design media publications.
In collaborating with his clients to develop creative and sophisticated spaces, Andrew continues to shine as one of Sydney's leading interior designers. Contact us today to discuss your home or office interior design needs.